Citia Stair Lifts
DAY Elevator & Lift is one of the leading suppliers of the elegantly designed Citia stairlifts that help you to greatly enhance the accessibility of your home. Our services cover the Tri-State area of New York, New Jersey and Connecticut.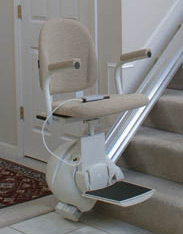 You can contact us at 1-800-758-5438 or by email at sales@dayelevator.com for the installation, repair and maintenance of these stair chair lifts at your settings. We buy used stair lifts. Our certified technicians refurbish the equipment. Pre-owned products are certified with FULL 1 year warranty.
Secure Stair Access
Designed and developed by the renowned stair lift manufacturer, ThyssenKrupp Access, Citia stair chair lifts stand for safety and durability. Citia models include:
Citia Star
Citia Excel
Citia Silver
Citia StandardPlus
You can choose the model that best fits your needs, budget and lifestyle. Designed for straight stairs, the stair lift has a compact design and comes with AC and battery-operated control options. Easy to upgrade, its quiet motor and smooth, fluid movement makes your glide over the stairs a comfortable experience. You can conveniently fold up the foot rest when the stair chair lift is not in use and save stairway space.

Citia stair lifts mainly come with five interchangeable seating options. The adjustable seat heights have obstruction sensors to detect obstruction in the path, and automatically stop running.
User-Friendly Citia Stair Lifts - Features
Star seat controls
Handheld pendant controls
Seat belt
Swivel seat cut-off switch
Battery goes into energy-saving sleepmode when not in use
Easycare track
Please fill out the form and submit it to schedule a free consultation on a Citia stair lift to suit your needs.

Client Support
Our Product Line