Excel Stair Lift
A leading mobility equipment supplier in the Tri-State area of New York, New Jersey and Connecticut, DAY Elevator & Lift supplies the premium quality Excel stair lift model from the renowned stair lift manufacturer, ThyssenKrupp Access.

Get in touch with us at 1-800-758-5438 or email us at sales@dayelevator.com for more information about the Excel Stair lift.

Our certified technicians deliver excellent installation and support service for the stair lifts you buy from us. All the lift models we supply come with a 5 year warranty on drive train and 2 year warranty for all other component parts. We also purchase used stair chair lifts and recertify them with 1 year warranty.
Powerful and Dependable Performance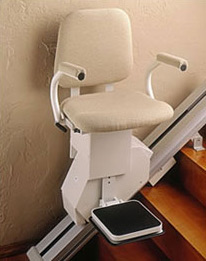 Excel stair lifts deliver powerful and dependable performance, and are specially designed with your safety and comfort in mind. ThyssenKrupp Access Excel stair lifts come with SoftStart / SoftStop technology which ensures a gentle smooth acceleration during start and stop.
Excel Stair Lift Safety Features
The stair lift is equipped with state-of-the-art features and safety systems:
Padded armrests with optional joystick control
Foldable rail
Foot rest obstruction sensor
Over speed break and optional hand-held pendant control
Comfortable seat that can be swiveled and locked at 60° or 90°
Access with wireless remote control
Added thigh support
Control switch on the sides of the armrest for ease of use
Upholstery options like taupe vinyl, misty gray vinyl and oatmeal herringbone fabric
The Excel stair lift model operates on electricity as well as a battery operated system to ensure dependable, uninterrupted service even during a power failure.

Client Support
Our Product Line