Handicap Stair Lifts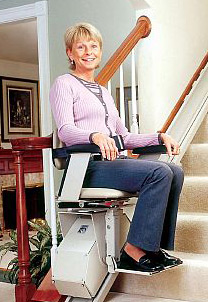 DAY Elevator & Lift's innovative line of handicap stair lifts are great options for those looking for safe and reliable lift solutions for their settings. As a leading stair lift company in the US, we make available standard stair chair lifts from the industry's leading manufacturers including ThyssenKrupp Access, Savaria and Bruno. Our world-class services cover the Tri-State area of New York, New Jersey and Connecticut.

If you are looking for a handicap stair lift, call 1-800-758-5438, or email us at sales@dayelevator.com. To schedule an appointment with us, use our Free Consultation Form. We buy used stair lifts. Certified technicians refurbish the equipment. Pre-owned products are certified with FULL 1 year warranty.
Unmatched in Safety and Reliability
Our versatile stair chair lift models include curved stair lifts and straight stair lifts. Aimed at safety and comfort, they are equipped with all essential security features. We also supply several models of handicap outdoor stair lifts. Swivel seats, seat belts, padded armrests and safety breaks are some of the key elements of these lifts.
Stair Lifts
for Indoor and Outdoor Use

Of the vast range of stair lifts supplied at DAY, the handicap stair lifts from ThyssenKrupp Access are very popular and include four indoor models and one outdoor model. The handicap stair lifts from Savaria's battery and electricity operated models can be installed indoors and outdoors. Bruno's four unique models include the Electra-Ride straight rail stair lifts and one curved stair lift. Bruno's Outdoor Electra-Ride Elite is designed with extra loading capacity and weather-resistant features are ideal for use in your outdoors.

DAY's premium brands of handicap stair lifts are your answer to indoor and outdoor accessibility. Our quality installation, repair or maintenance services are available for the stair lifts you buy from us.

Client Support
Our Product Line