Home Stair Lift
Enjoy greater independence and comfort in your home with a quality home stair lift. DAY Elevator & Lift offers a vast range of innovative stair lift models for accessing different parts of your home easily, safely and comfortably. Our exclusive inventory of accessibility products includes well-known brands like ThyssenKrupp Access, Savaria and Bruno.

To contact us, call 1-800-758-5438 or send an email to sales@dayelevator.com. You can avail our services anywhere in the Tri-State area of New York, New Jersey and Connecticut.

Day buys used stair lifts and refurbishes the equipment. Pre-owned products are certified with FULL 1 year warranty.
Home Stair Lifts
– Ideal Accessibility Solutions

DAY's inventory of residential stair chair lifts suit various stairway configurations and blend elegantly with your home décor. Our list of residential stair lifts includes: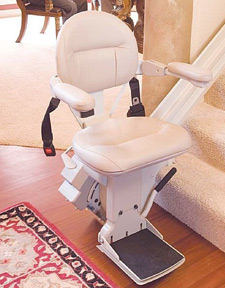 ThyssenKrupp Access Stair Lifts

Stair-Glide Stair Lift
Excel Stair Lift
Flow II Stair Lift
Citia Stair Lift
Safe and Durable
DAY's line of home stair lift systems are designed with safety and comfort in mind. We supply battery-powered electric stair lifts for homes that function flawlessly even during power outages. Our stair chair lifts feature remote controls, obstruction sensors, flip-up seat, foldable footrest, anti-skid foot rest and much more.

DAY Elevator & Lift's mobility solutions for your home include efficient installation, repair and maintenance services.

Client Support
Our Product Line