Commercial Stair Lifts
DAY Elevator & Lift, the leading distributor of premium accessibility devices in the United States, supplies outstanding models of commercial stair lifts. The stair chair lifts we offer are ideal mobility solutions for physically challenged persons in commercial environments including hospitals, churches, offices and shopping malls.

To obtain more information about our commercial stair lifts and extensive range of products and services, call 1-800-758-5438 or send an email to sales@dayelevator.com. We serve the Tri-State area of New York, Connecticut and New Jersey.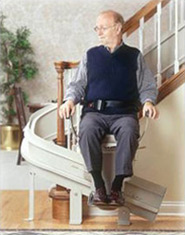 Quality
Stair Lifts
from Industry Leading Manufacturers

The various models of our commercial stair lifts provide easy and comfortable access. To enable the mobility challenged and elderly to easily access different floor levels of commercial settings, DAY offers highly innovative models of indoor and outdoor stair chair lifts from leading manufacturers like Savaria and Bruno. The exclusive models that you can choose from include:

The commercial stair lifts that DAY Elevator & Lift supplies can be installed easily on stairways of various configurations, such as straight and curved staircases. The commercial stair lift systems are integrated with top-quality safety features and user-friendly controls. The standard features of the different models of stair chair lifts we supply include:
Wall-mounted call/send controls
Non-skid adjustable foot rest
Swivel seat
Safety braking system
Obstruction sensors
Seat belt
Remote controls
Efficient Installation Service
The battery-powered models of our commercial stair lifts ensure safe floor-to-floor movement even during power outages. Our committed team of technical experts provide quality installation, repair and maintenance services. We work along with architects, designers, contractors and builders to provide customized solutions.

DAY purchases used stair chair lifts. Pre-owned stair lifts are reconditioned, certified and presented for sale with FULL 1 year warranty.

Client Support
Our Product Line