Stair Lift Systems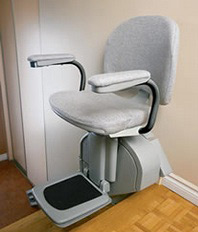 DAY Elevator & Lift, a reliable dealer of quality mobility devices in the United States, offers value-added services in the Tri State area of New York, New Jersey and Connecticut. We offer highly innovative models of stair lift systems to help mobilty impaired persons lead an independent lifestyle. Our exclusive models of indoor and outdoor stair lifts are suitable for use in both residential and commercial settings.

The various straight and curved stairlift systems that we supply can easily blend with the décor and design of any home or workplace. All our home stair lift systems can be installed in both old and new stairways rather easily, without any major changes to structure.

To know more about the exclusive models of stair lift systems and other products and services we offer, please call 1-800-758-5438, or email us at sales@dayelevator.com.
Stair Lift
Models to Suit any Stairway Configuration

DAY Elevator & Lift offers user-friendly and stylish models of stair lift systems manufactured by leading companies like Bruno, ThyssenKrupp Access and Savaria. Our stair lift systems are perfect options for spaces where escalators or elevators cannot be installed. The stair chair lifts offered by DAY ensure comfort and safe floor to floor access for the mobility impaired. Available in varying weight capacities, the lifts are also suitable for transporting heavy loads between different floor levels.

DAY offers the latest models of stair lift systems to suit straight, spiral or curved stairway configurations. The models you can choose from include:
Flow stair lift
Citia stair lift
StairGlide stair lift
Excel stair lift
Convenient Features
DAY offers both electricity- and battery-operated stair lift systems. This would facilitate comfortable movement through the floors even during power outages. To ensure effortless operation and safe travel, our stair chair lift systems are equipped with easy-to-use controls and premium safety features such as:
Flip-up folding options for arms, seat and footrest
Obstruction sensors
Swivel seats, safety brake
Remote Controls
Adjustable non-skid footrest
DAY Elevator & Lift has a team of skilled experts who efficiently deliver trouble-free installation, maintenance and repair services for all models of stair lift systems. DAY also purchases used stair chair lifts. Pre-owned stair lifts are reconditioned, certified and offered for sale with FULL 1 year warranty.

Client Support
Our Product Line