Home Stair Lift Systems
DAY Elevator & Lift is a well-known company offering a wide range of convenient residential accessibility solutions in the Tri-State area of New York, New Jersey and Connecticut. DAY offers safe, comfortable, and durable home stair lift systems. We are highly adept at customizing preliminary designs.

To get more information about the home stair lift systems we offer, call 1-800-758-5438 or send an email to sales@dayelevator.com. If you wish to schedule a free consultation, please fill out and send us the request form.
Advanced, Easy-to-Use
Home Stair Lift
Models

DAY offers advanced, easy-to-use models of residential stair lifts from leading manufacturers including Savaria, Bruno, and ThyssenKrupp Access. These include: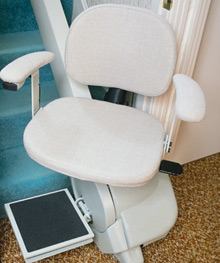 ThyssenKrupp Access

Flow II Stairlift
Citia Stairlift
Excel Stairlift
Stair-Glide Stairlift
Of these, two home stair lift systems from Savaria are specially designed for straight stairways. All four models of the residential stair lifts from ThyssenKrupp Access can be used on both straight and curved stairways. The stair lifts from Bruno include a curved rail model which is exclusively designed for use in curved stairways. Our inventory includes electric stair lifts for the home that can work on battery power and ensure uninterrupted movement during power outages.
Prompt Installation and Maintenance Service
The premium models of home stair lift systems we offer resolve all your indoor and outdoor residential mobility needs. They come with top class safety features including safety brake, seat belt, non-skid footrest and obstruction sensors to ensure safe and comfortable movement.

Whatever your accessibility requirements, DAY Elevator & Lift offers efficient and timely service. We work closely with architects, builders and designers to offer customized solutions.

We buy used stair lift systems. Pre-owned stair chair lifts are reconditioned, certified and offered for sale with FULL 1 year warranty.

Client Support
Our Product Line