Residential Stair Lifts
A leading elevator and lift company in the US, DAY Elevator & Lift supplies quality residential stair lifts in the Tri-State area of New York, New Jersey and Connecticut. Our inventory has premium quality accessibility products from the industry's leading manufacturers like ThyssenKrupp Access, Savaria and Bruno.

To get in touch with us, call our toll free number 1-800-758-5438, or email us at sales@dayelevator.com.
Highly Versatile
Residential Stair Chair Lift
Models

DAY Elevator and Lift offers a variety of stairway lifts for indoor and outdoor use. Our attractive residential stair chair lift models not only blend with your home, but also provide a smooth ride through the stairs. We have a range of options to suit all kinds of stairways - curved, spiral or straight. Our home stair lifts come with premium safety features. Advanced stair lift models you can choose from include: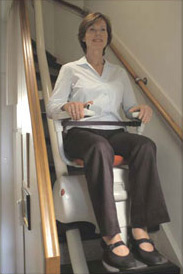 ThyssenKrupp Access Stair Lifts

Stair-Glide Stair Lift
Excel Stair Lift
Flow II Stair Lift
Citia Stair Lift
Technical Expertise
Our knowledgeable staff offers all-round service - from installation to maintenance and repair. You can also sell us your used stair lift. DAY refurbishes pre-owned residential stair lifts and offers them for sale with FULL 1 year warranty.

Client Support
Our Product Line