Disabled Stair Lift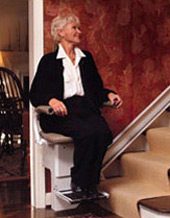 Helping people with limited mobility lead a comfortable and active lifestyle, DAY Elevator & Lift offers premier disabled stair lift models from leading manufacturers. We are proud to serve a diverse client base ranging from home owners to builders and architects. Our experienced services are available in the Tri-State area of New York, New Jersey and Connecticut.

For information on our products and services, call 1-800-758-5438 (toll free) or send an email to sales@dayelevator.com. We have all the resources to help you choose and install a handicap stair lift to suit your specific needs.
Different Models of
Stair Lifts for the Disabled
DAY has various models of disabled stair lifts including curved stair lifts and straight stair lifts to blend with different stairway configurations. Our wide range of handicap stair lifts includes models to complement both indoor and outdoor environments.
Safe, Comfortable and Durable
The stair chair lifts we supply do not compromise on quality. Our line of handicap stair chair lifts is sourced from the top manufacturers like ThyssenKrupp Access, Savaria and Bruno. All lifts come with state-of-the-art safety features. The electric stair lifts we provide run on rechargeable batteries to ensure efficient functioning even during power outages.

Some of the other safety features of our disabled stair lifts include:
Automatic obstruction sensors
User friendly controls
Seat belts with locking mechanism
Smooth and powerful drive system
Weather resistant cover system for outdoor stair lifts
High loading capacity
DAY's services are backed by a team of certified technicians to ensure efficient installation as well as timely repair and maintenance service. We buy used stair lifts and refurbish the equipment. Pre-owned products are certified with FULL 1 year warranty.

Client Support
Our Product Line