Stair Lift Repairs
DAY Elevator & Lift, one of the leading suppliers of mobility devices in the United States, offers advanced models of stair lifts convenient for outdoor and indoor use in residential and commercial spaces. To ensure consistent performance and keep your stair chair lifts in perfect working condition, our team of technical experts offer comprehensive stair lift repairs as well as timely maintenance service. Our services are available to our customers in the Tri-state area of New York, New Jersey and Connecticut.

To know more about the different models of stair lifts we supply and stair lift repair services, call our toll free number 1-800-758-5438 or write to us at sales@dayelevator.com.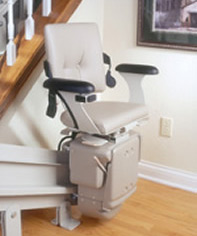 Consistent Stair Lift Repair Services
We place great importance on the safety and comfort of the accessibility solutions we provide. Our qualified and committed staff can resolve even the most complex technical problems of your stair chair lift. DAY's stair lift repair services are available for electrically operated and battery-powered stair lift systems. The benefits of our stair lift repair solutions include:
Highly effective and practical solutions
Timely repair
24-hour support service
All-inclusive, regular stairlift servicing
Custom-made Solutions
DAY offers various models of stair lifts including straight stair lifts and curved stair lifts from popular manufacturers such as Savaria, ThyssenKrupp Access and Bruno. DAY's efficient installation and repair services cover the following stair chair lifts models:
Stair-Glide Stair Lift
Excel Stair Lift
Flow II Stair Lift
Citia Stair Lift
Our quality stair lift repair services ensure that your stair chair lifts stay functional all the time, reducing downtime and ensuring uninterrupted use. To deliver superior customer service, we work closely with architects, builders, designers and contractors.

DAY buys used stair chair lifts. Pre-owned stair lifts are refurbished, certified and offered for sale with FULL 1 year warranty.

Client Support
Our Product Line