Straight Stair Lifts
DAY Elevator and Lift is a leading distributor of state-of-the-art residential and commercial accessibility options in the United States. With extensive skill and experience, we serve the Tri-State area of New York, New Jersey and Connecticut. We are committed to providing our customers easy-to-use and comfortable options to deal with their mobility impairments, and offer branded models of straight stair lifts from manufacturers such as Bruno, ThyssenKrupp Access and Savaria.

For more information about the features, specifications and prices of the different models of our straight stair lifts, dial 1-800-758-5438 or snd a mail to sales@dayelevator.com. You can fill out the Free Consultation Request form to schedule a free consultation.
Stair Lifts
– Choose from Various Models

Installing stair chair lifts helps physically challenged persons to easily access different floor levels of a building. DAY Elevator & Lift offers the finest models of straight stair lifts for both homes and commercial buildings. Our models suit various kinds of stair chairs and include: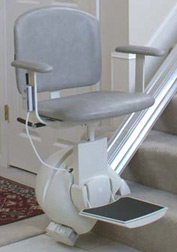 ThyssenKrupp Access

Flow II stair lift
Citia stair lift
Stair-Glide stair lift
Premium Safety Features
DAY Elevator & Lift's straight stair lift models offer smooth quiet operation, user-friendly controls and superior safety options. The important features of our straight stair chair lifts include:
Obstruction sensor
Swivel seat, safety belt
Non-skid footrest
Footrest safety switches
Remote controls
The various models of straight stair lift systems that we offer can be operated on electricity as well as battery power. Moreover, these lifts are compact and can be kept folded when not in use.

DAY Elevator & Lift offers excellent customer support service. Our experienced panel of technical experts ensure timely installation for your straight stair lift systems in existing and new stairways. We also assist home owners, designers, architects and builders to choose the models of stair chair lifts that best suits their requirements and budgets. You can even sell your used stair lifts to us. These pre-owned stair lifts are upgraded, certified and offered for sale with FULL 1 year warranty.

Client Support
Our Product Line